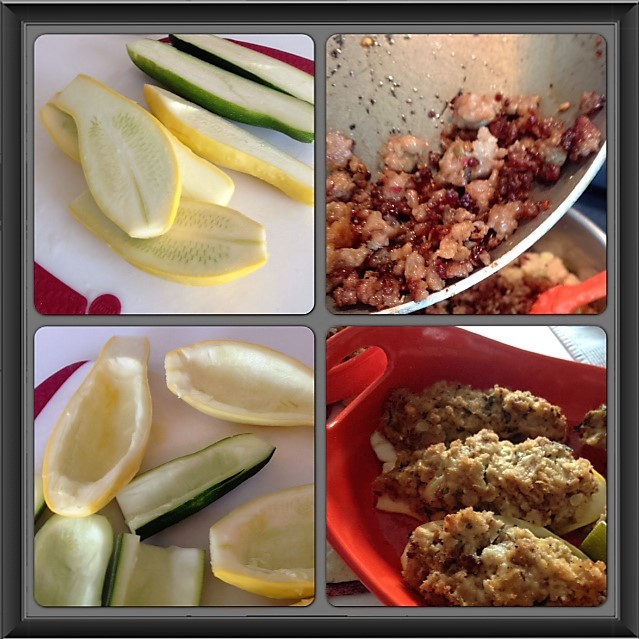 Another favorite from Grandma Sue's kitchen.  As I write this recipe to you I can taste this zucchini and it puts a smile on my face but makes me miss my grandmother and her kitchen so much! I can't tell whether or not yours will taste quite as good because Gram just had a knack for cooking and as much as I try I don't get it quite the same but practice makes perfect and with each attempt it gets better.
People seem to beat themselves up too much in the kitchen. You're going to make mistakes and it's okay.  I write these recipes but really cooking isn't an exact science because we all have our own taste preferences.  Experiment in the kitchen.  Have a good taste tester and don't be upset with yourself if you screw up!  If it's not good – start over and try it again.  I didn't suddenly become a good cook when I walked out of my Grandma's kitchen.  It took time and thank goodness Sandro was not picky or critical especially given that he grew up with an outstanding cook in his house – that being my mother-in-law.  She makes some of the best lasagna you'll ever taste!  So many times people will say to me "I can't cook!"  I wonder if they ever really try.  In this day and age of the internet it's not too hard to find new ideas and recipes for just about anything.
Try this stuffed zucchini especially if you're going to have a garden this summer.  If it's a good summer you know you'll have zucchini coming out of your ears! 🙂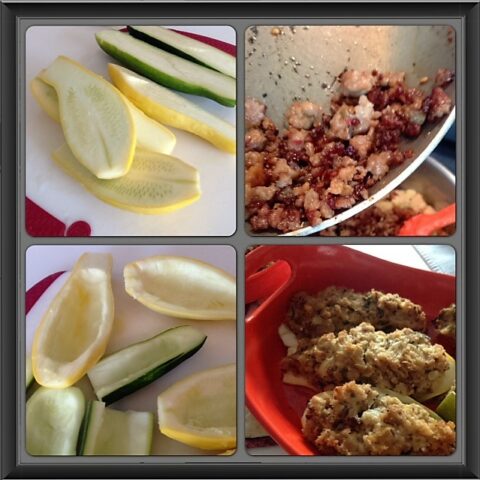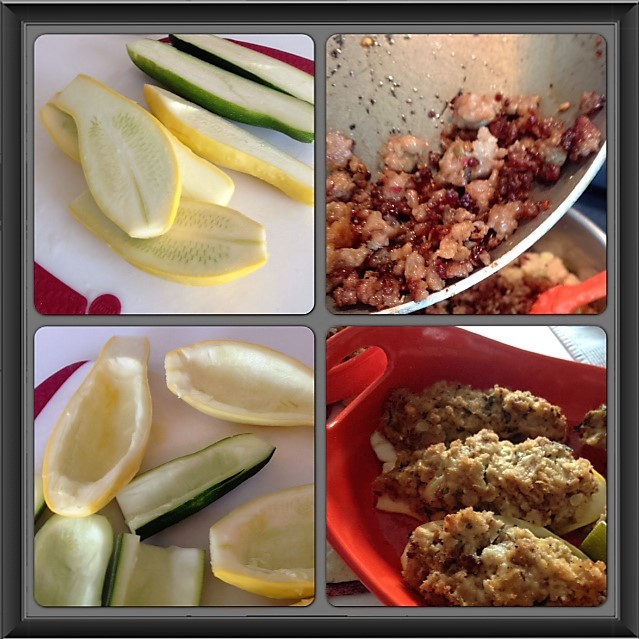 Stuffed Zucchini
This is a great summer dish and a way to use all those zucchini's!
Ingredients
2 medium zucchini
2 medium summer squash
Olive oil - 3 or 4 tbsp.
2 cups chicken stock
2 links of Hot sausage
Italian bread - 1 stale loaf cubed and dried or 1 bag of 15 oz bread stuffing (plain)
1 medium onion- sliced
1/2 c of chopped flat leaf parsley
Salt and Pepper
Garlic Salt and Garlic Powder
Instructions
Cut the zucchini and summer squash lengthwise and dig out the meat saving it in a bowl.
Over medium heat, add 2 tbsp of olive oil to a skillet and scramble the sausage and fry it until golden brown.
In a soup pot put another tbsp of olive oil and fry the onion and squash that you removed from the centers and cook until almost done.
Add the bread cubes and stir, slowly adding the chicken broth, chopped parsely and fried sausage.
Add salt, pepper and garlic salt and powder to your taste preference.
When all ingredients are well mixed and the bread softens take off from heat.
Put the sausage stuffing in each of the zucchini and squash.
Have a baking dish with olive oil ready and put each of the squash side by side.
Bake at 350 for about 20-25 minutes or until the zucchini softens enough to eat!
Also if you prefer you can also pour a little Marinara Sauce or a light fresh tomato sauce over these.