Sausage and Rapini Orecchiette
This is another great dish that is very comforting on these cold winter days! And what's not to love with all these healthy ingredients!
By the way orecchiette is Italian for little ears and this dish will warm your little ears right up! 🙂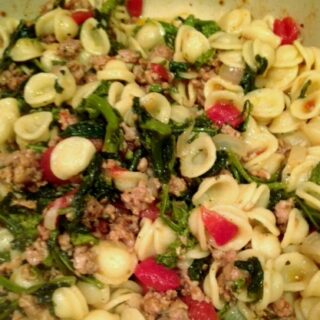 Sausage and Rapini Orecchiette
Ingredients
1 small onion - diced
4 cloves of garlic - peeled and halved
1 head of rapini (broccoli rabe)
2 links of Hot Italian Sausage
1 can of diced tomatoes (15 oz)
1 lb. box of orecchiette pasta
Salt and pepper to taste
Garlic Salt to taste
About 1/2 tbsp of sugar
4 tbsps of Olive Oil
2-3 tbsp of parmesan cheese
Instructions
Over medium heat add 1 tbsp of olive oil and garlic to large frying pan and sauté the garlic until golden brown. Add the diced onion and add salt and pepper and garlic salt to taste and saute for 3 or 4 minutes.
Wash the rapini thoroughly with cold water, cut off the ends, rough chop, and boil for about 10 minutes - do not overcook, drain and set aside.
Remove the hot sausage from the casing, add the rest of the olive oil to a frying pan over medium high heat, scramble sausage and cook until golden brown - set aside as well. Then add the rapini as well as the diced tomatoes. When you add the diced tomatoes - sprinkle them with the salt, pepper, garlic salt and sugar.
In a medium sized pot bring water to a boil, add a generous amount of salt and cook the pasta until al dente, before draining pasta water, remove a cup of the cooking water and set aside. Drain the pasta and add it to the frying pan and also add the pasta cooking water. Mix all ingredients well. Add the parmesan cheese and you're done!