Creamy Tortellini with Spinach & Artichokes
Your Favorite Dip Made into a Pasta!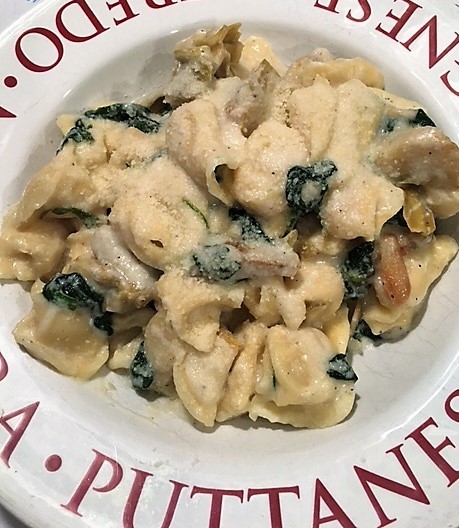 Creamy Tortellini with Spinach and Artichokes is like eating that yummy Spinach and Artichoke dip but it surrounds your favorite pasta.  Sunday dinners always seem like the special dinner of the week.  That was especially true for me growing up because my sister, my cousins and I would all gather around Grandma Sue's table to eat a big meal.  The food was great, but the fun with family was even better!
For this dish I used tortellini, however any short cut pasta will do.  Try it with your favorite pasta.  It's easy to make because I have helped you take some shortcuts along the way.  You can prepare this in 30 minutes once you have all the ingredients. That's what it's all about.  If you plan things out over the weekend and know what you need you can make Sunday dinners every day of the week!  No more throwing together the same thing.  Make a plan and then go for it!  I like to call it Sunday Dinners Everyday!
Mangia!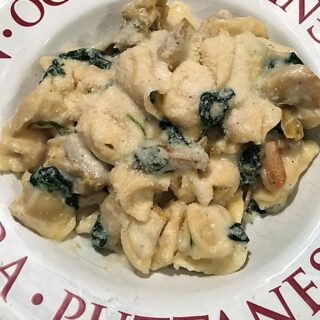 Creamy Tortellini with Spinach & Artichokes
This creamy tortellini is like eating Spinach and Artichoke dip with your favorite pasta.
Ingredients
Bechamel Sauce
3 Tbsp. butter
3 Tbsp. flour
2 c. 2% milk
Salt and Pepper
¼ tsp. garlic Powder
Freshly grated Nutmeg about 1/8 tsp.
½ c Parmesan Cheese
6 Italian Cheese - shredded (in packaged cheese section at grocery store)
Other
1 pkg of frozen artichoke hearts
1 bag of baby spinach
1 pkg of 3 cheese tortellini
2 tbsp olive oil
4 cloves of garlic, peeled and smashed
Salt and Pepper
Instructions
Over medium high heat saute the garlic in olive oil until golden brown.
Follow the instructions on the box for the artichoke hearts and then add artichoke hearts and to the pan and season with salt and pepper.
Add the spinach and more salt and pepper and fully cook and set aside.
Over high heat bring a pot of water to a rolling boil.
Add a generous amount of salt, add the pasta and boil until desired texture.
For the Béchamel Sauce - In another medium size pan over medium heat melt the butter, whisk in the flour and cook for about a minute or so the whisk in the milk, adding slowly. After flour is dissolved in, add a generous pinch of salt, pepper, garlic powder and the nutmeg. Bring to a slow bubble and add in the Parmesan Cheese and Shredded 6 Italian Cheese and allow dissolving in the sauce. Gently simmer –stirring frequently.
When pasta is done cooking add it to the spinach and artichokes, mix, pour the Bechamel Sauce over the top and fold in. Top with Parmesan cheese.