With October here the warm and dry summer we had is starting to become a distant memory. 🙁  We can't complain as it was one of the best summers I can remember in a very long time….  I love the Fall season and October because it is my Birthday Month!! Yes I do get a whole month because I declared it!! You can too.
Although the warm summer days have gone and the nights are much cooler no need to cry because we are also entering the time we can eat comfort food again!  And this summer served as a very good climate to have a garden full of wholesome veggies and herbs.  In the recipe below I used what is becoming the end of the garden.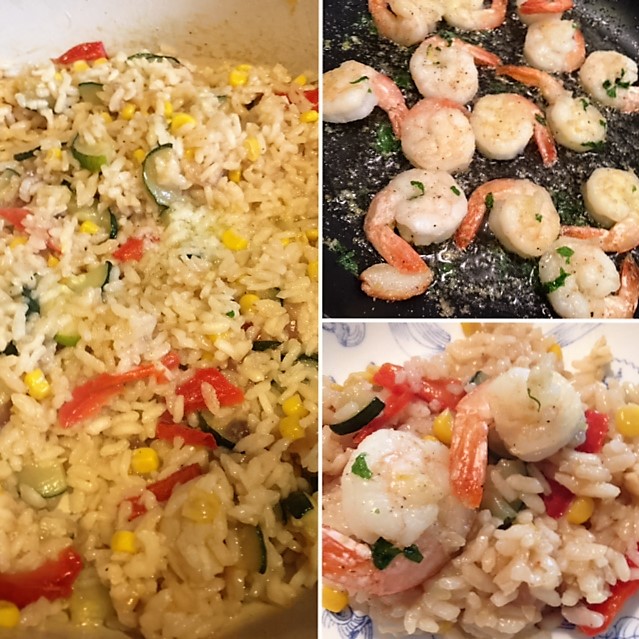 Risotto with Garden Fresh Vegetables topped with Garlic Shrimp
Fall comfort food made with the fruits of a warm summer.
Ingredients
1 bag of Risotto
1 qt of chicken stock
1 red Bell pepper or green pepper - sliced
1 med zucchini - sliced
1 medium onion - sliced
5 garlic cloves
2-3 Tbsp olive oil
¼ c. chopped Italian Parsley
1 bag of fresh or frozen shrimp 26/30, cleaned and deveined
2 c. of fresh or frozen corn
1 stick of butter
Parmesan Cheese
Salt and Pepper
Instructions
In a large skillet or dutch oven heat the olive oil over medium heat.
Saute the 2 garlic cloves until golden brown, add the peppers, then the onions and then the zucchini and cook - space each out so the cooking time is appropriate. Add a little salt and pepper each time you add a new veggie. Add the corn at the end.
Remove the veggies and set aside.
In a sauce pan warm the chicken stock and set aside.
In the skillet or dutch oven, add a quarter stick of butter and melt, add the risotto and heat until it starts to turn golden brown.
Slowly add the chicken stock and stir constantly, when the chicken stock evaporates into the risotto, add more and repeat until the stock is gone. If it seems dry add a little water.
Once the risotto is cooked, add back the vegetables and fold them into the risotto. Add the Parmesan Cheese and another quarter stick of butter and allow to melt on the top. Cover the risotto.
In another frying pan, melt the rest of the butter and saute the other 3 garlic cloves until golden brown, add the shrimp and fry over medium heat. Watch the shrimp closely, turn over when they begin to get pink. Fry the other side and remover from heat when the other side is pink. Do not overcook the shrimp or they will get very rubbery! At the end of the cook time add the parsley over the shrimp.
Serve the shrimp over the risotto with a nice piece of Italian Bread because what else do you have to do with that other hand!!